My trips...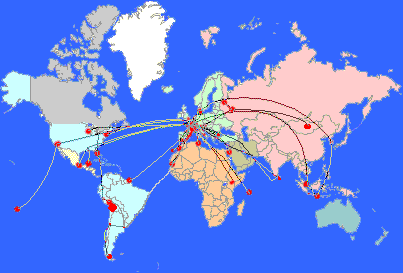 In red, the places I have already explored.
Click, some of these contains pictures or slideshows.
Visit my Journey Diaries by following this link.
Still lots of trips to do in that so small world !
Deliver your opinion by leaving your comments on the blog dedicated to my photos
My various trips around the world taught me how to take the few essential precautions which make it possible to pass a stay without troubles (or almost). Here some of my advices:
Formalities not to be forgotten (for French citizens):
The passport (15 days of lead time, now valid 10 years in France)

Visas (often with charges, sometimes exemption for the EEC citizens)
Vaccines (sometimes obligatory)
Anti-malaria prescription (Malaria)

Preventive visit to the doctor and the dentist

If required, establish an international driving license
First-Aid Kit:
Anti-diarrheal (under medical prescription only: Nifuroxazide & Loperamide)

Gastro-intestinal Antiacids (Diosmectite)

Broad-spectrum Antibiotic (under medical prescription only: Ofloxacine/Fluoroquinolone or Azithromycine)

Cough drops (even for the hot countries!)

Analgesics (Paracetamol, aspirin should be avoid because of hemorrhagic risks)

Anti-mosquito products (in spray, it is practical)

Cream to relieve insect bites and stings

Sun lotion (strong indices), lip repair cream

Elastic compression bandage for sprained ankles

Anti-inflammatory gel

Adhesive bandages (Assorted)

Antiseptic towellets individually wrapped

Water disinfecting pills (hydroclorazone)

Eyewash solutions individually packaged

According to destinations: A survival blanket
Advices for the diarrhoea of the travelers:
Many disease met during the travels are due to infections transmitted by oral way and by the hands. A little vigilance and attention is often sufficient to prevent the majority of them. Hepatitis A, typhoid fever, polio and cholera are diseases still met in the countries known for their bad hygiene, but these diseases are easier to prevent. However, the diarrhoea of the traveler will be unavoidable, in the majority of the case. The diarrhoea of the traveler cures practically always itself spontaneously after a few days, but it can be very unpleasant. Initially, it is necessary to take measures against dehydration. Then a symptomatic treatment can be applied to decrease the frequency of the stools and symptoms such as the fever, nausea and intestinal cramps. Sometimes a severe diarrhoea occurs, for which is needed a specific treatment with anti-infectious means and sometimes a hospitalization becomes inevitable in order to allow a rehydration by intravenous way.

Some preventive measures are enough to ensure the prevention of the diarrhoea of the travelers:

It's almost impossible to completely avoid the diarrhoea of the traveler and it's clear that the preventive measures cannot always be followed. Nevertheless the preventive measures may reduce considerably the risks of severe diarrhoea.

Before the meals: Wash your hands with soap and water or with a disinfecting gel

Avoid, as far as possible:

raw vegetables and fruits that you did not peel by yourself,

not pasteurized or raw dairy products,

shellfish or meats badly cooked (moreover, risk of hepatitis A!) or insufficiently roasted (barbecue),

"the local specialities" that don't look fresh,

ice-creams bought in the street (industrial ice-creams from a freezer should be sure).

The cooked meals must be served quite hot.

The place where you eat is also important: a meal coming from a street's stall presents more risk than a meal taken at the restaurant. Avoid the restaurants invaded by insects.

Avoid the water from the tap as well as the ice floes. Natural water in bottle and refreshing drinks are without danger. Pay attention to the capsules already opened. It is essential for the adventurous travelers to disinfect their water before drinking it. Remember that it is almost unrealizable to completely sterilize water.

The risk of contamination can however be considerably reduced by taking one of following measures:

Boiling: It is very effective to boil water.

Chemical disinfection: A good alternative consists in disinfecting water with chlorine drops or tablets (Micropur forte® ; Certisil Combina®; Chloramine). You can reinforce their action by initially filtering the water, which is essential if the water is not limpid.

Silvers salts (Micropur®, Certisil Argento®) are not really reliable to disinfect water, but they are useful to keep it sterile after chemical disinfection.

Filtration: It is advised for the adventurous travelers to buy a portable filter.

Antibiotic drugs so as to prevent the diarrhoea (before falling sick) are unsuitable, as well as the preventive use of any other drug.
How to treat the diarrhoea?
It is extremely important to drink sufficient salted liquids to avoid dehydration. You can use salted solutions, but tea with lemon, soup, soft drinks and fruit juices with rusks have, of course, a more pleasant taste. There are commercial preparations (S.R.O., for example), but you can also make this solution by yourself: 5 coffee spoons of sugar and a half-spoon with salt for 1 liter of water.

The ingestion of "an inhibitor of the intestinal transit" (loperamide as Imodium) can strongly reduce the number of stools and thus decreases considerably the complaints. The loperamide can be used only by adults and by children of more than 2 years and only in the event of banal diarrhoea: 1 capsule after each liquid defecation, to the maximum of 4 capsules per day.
An antibiotic is indicated is the following cases (cf diagram) :

when you find the presence of blood, mucus or pus in the stools (start the treatment immediately),

for people with poor immunizing defenses or a reduced production of gastric acid (start the treatment immediately),

if after 24 or 48 hours no improvement occurred and if the diarrhoea is accompanied by a fever (of more than 38.5°C/101.3°F) or with abdominal cramps when there are more than 6 defecations by day,

or because of the circumstances of travel when a faster solution is desirable.

Appropriate antibiotics are listed below: under medical prescription only

Fluoroquinolone-like antibiotic: ofloxacine 400/Tarivid 400® 1 tablet per day OR ciprofloxacine 500/Ciproxine 500®, ofloxacine 200/Tarivid 200®, norfloxacine/Zoroxin® 1 tablet each morning and evening during 1 to 3 days for an aqueous diarrhoea without complication (in the event of purely aqueous diarrhoea, the treatment can be stopped at the disappearance of the symptoms), up to 3 to 5 days in the event of serious symptoms (cf. diagram). Avoid the sun during the treatment.

Zitromax® (azithromycine) - 500mg per day during three days, or 1000mg in 1 shot. This treatment can also be used by pregnant women. The paediatric syrup prescription is 10mg/kg/day X 3 days. (Bactrim® and Eusaprim® are not recommended any more).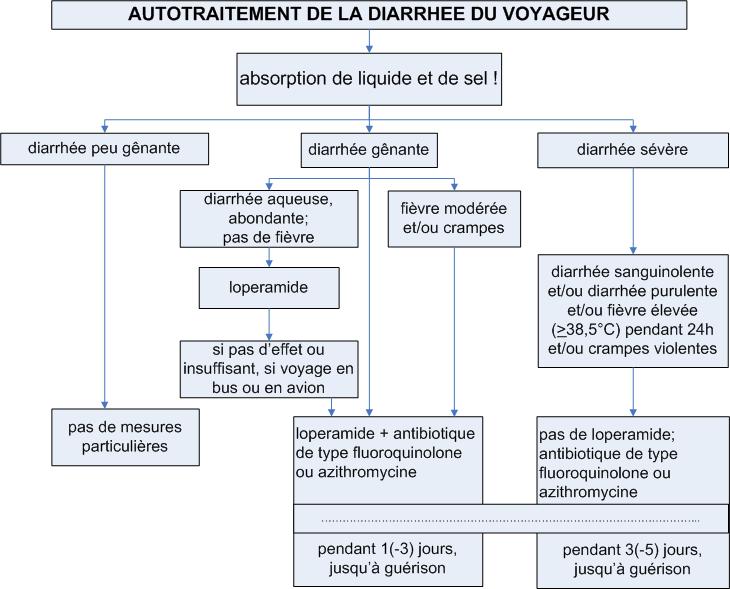 Useful links: